User:Hilpgh
From Carrick-Overbrook Historical Society
The Mothers' Club of Carrick was a philanthropic organization founded by Harriet Duff Phillips.
In a 1931 Post-Gazette article she is noted as the founder of the Mothers' Club of Carrick
This is the location of their first meeting house that was located at the corner of current Spokane and Parkfield Avenues. The site is now an expansion building and gym of Carrick High School.
The current view of this site:
This video was transferred from a 16mm real found in the home of the former Mothers Club of Carrick, PA. This real was donated to the Carrick-Overbrook Historical Society and then converted to DVD. Currently this footage is the only home movie of the Carrick Community in this early time period of the 1940s. This movie also contains the original entrance to Carrick Park which was later renamed "Phillips Park." Also featured is the original Mothers Club house which was demolished for Pittsburgh Carrick High School's first addition. This film was very rare for its time since it was in color and originally there was sound recorded onto a phonograph. At this present time we are unable to locate the audio that was recorded.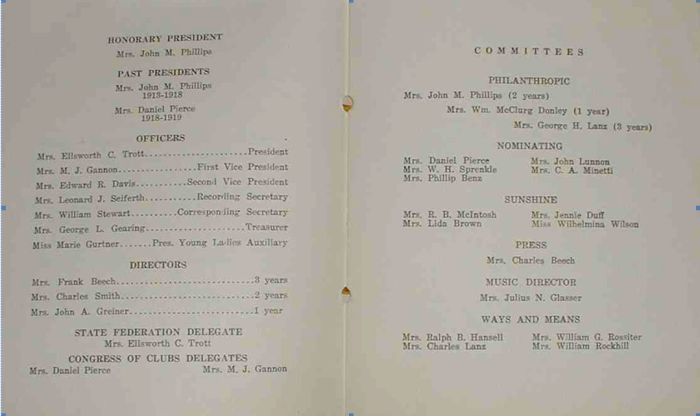 Mother's Club Photo?
Mother's Club History Up To 20th Anniversary, 1933
The Events of The Year, 1922
Letter and Ordinance for Soldiers' Memorial, 1927
Soldiers' Memorial Dedication, May 1928
Mothers' Club of Carrick Postcard Oct. 21, 1931
Other Mothers' Club Houses over the years
Carrickulum Vol. 10 - January 23, 1935
Bird House Contest for Hill-Top Students Sponsored by the Mother's Club of Carrick
Tree Dedication Letter, September 30, 1936
The Club Journal Vol. 1 - April 3, 1940